"The Ultimate Guide to Choosing the Perfect Kitchen Rug Runners"
Posted by ANDY ZAMAN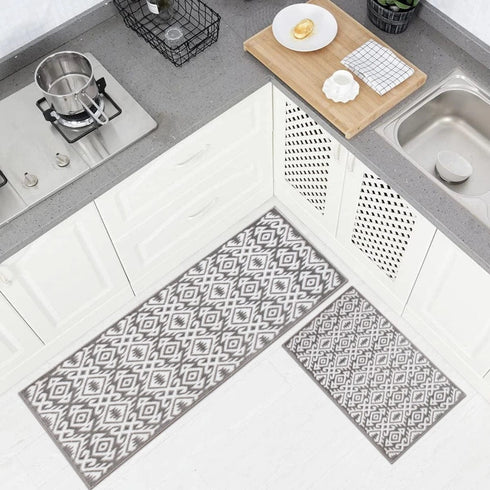 The perfect kitchen rug runners rug adds a touch of style and personality to your kitchen. It can also provide a cozy and inviting atmosphere. But choosing the right kitchen runner rug for your space can be a daunting task. With so many options available, it's hard to know which one will best suit your needs and blend in with your existing décor. From selecting the right size and shape to choosing the right material and design, here is the ultimate guide to help you pick the perfect rug for your kitchen. With this guide, you will be able to find the perfect kitchen runner rug to add a touch of charm and elegance to your home.
What to Consider When Choosing the Perfect Kitchen Rug Runners
The first step in finding the perfect kitchen runner rug is determining the size of your space. Measure the length and width of your kitchen to get an idea of how much rug you will need. This way, you can be sure that the rug you choose fits perfectly in your space. Next, consider the shape and design of the rug. Do you want a traditional rectangle or a more modern round shape? You should also think about what material would work best for your kitchen flooring. If you have hardwood floors, choose rugs made from natural fabrics like cotton or wool. For laminate flooring, synthetic materials like polyester are ideal. Finally, think about the style and pattern of your runner rug. Look for designs that complement your existing décor or opt for something bold and unique to make a statement in this room.
Selecting the Right Size and Shape
The size and shape of your kitchen runner rug can have a big impact on how it looks in the space. A small rug may not be enough to cover the entire area, while a large rug can make the room look crowded. To determine the right size, measure the space you have available. Once you know the dimensions, you will be able to select an appropriate size and shape for your kitchen runner rug. If your kitchen has an odd shape, consider opting for a round or oval-shaped rug. This will give your kitchen a unique look and feel. Once you've selected the perfect size and shape for your rug, it's time to select its material and design.
Choosing the Right Material
The material of the kitchen runner rug is an important factor to consider. You want a rug that is durable and easy to clean. Natural fiber rugs such as wool, cotton, jute, and sisal are soft and comfortable underfoot, but can easily be stained or damaged if not properly cared for. Synthetic materials such as polyester and nylon are more affordable and easier to care for, but may not provide the same level of comfort as natural materials. Consider your lifestyle when choosing the material for your rug; if you have pets or young children in your home, a synthetic material may be the best choice.
Finding the Right Design and Color
When shopping for a kitchen runner rug, it's important to choose one that complements the overall look and feel of your kitchen. To do this, consider the color scheme, style, and design of your cabinets, countertops, and appliances. Look for a rug that has colors that are complementary to the rest of the room. You can also opt for neutral shades if you want a more timeless look. If you have an open concept kitchen, you may find it beneficial to use patterned rugs in different areas of the room. This will bring continuity to your space while still allowing each area to stand out on its own.
Mix and Match Patterns and Colors
When selecting a kitchen runner rug, one of the most important things to consider is color. Whether you're looking for something neutral or something more vibrant, there are plenty of colors to choose from. You can also mix and match patterns and colors to create a unique look. Try combining stripes with polka dots or florals with solids to make your kitchen runner rug stand out. Additionally, try pairing complementary colors to create a balanced look that will bring the entire space together. The best part about mixing and matching patterns and colors is that you can switch up the look anytime you want!
Benefits of Kitchen Runner Rugs
Kitchen runner rugs can provide several benefits to your home. They can help protect your floors from wear and tear, add a cozy and inviting atmosphere, and even improve the acoustics of your kitchen. Kitchen runner rugs are also great for adding color and texture to your space. With so many designs and sizes available, you can find the perfect rug to match any décor style. Runner rugs are also ideal for small kitchens as they don't take up too much floor space but still make a big impact in the room. Additionally, they can help create an illusion of space by making the room appear larger than it actually is. With so many benefits, choosing the right rug for your kitchen is an important decision that shouldn't be taken lightly.
Tips for Placing Your Kitchen Runner Rug
When it comes to placing your kitchen runner rug, there are a few things to keep in mind. First, make sure the rug is at least six inches away from walls and cabinets. This helps prevent dirt buildup along the edges of the rug. Additionally, it's important to select a rug that is the right size for your space. Measure the width of the space where you want to place your rug and then add four inches on either side. This will ensure that your kitchen runner rug fits properly in your space without making it feel too cramped or overcrowded. Finally, be sure to choose a color and pattern that complements the existing décor of your kitchen. By considering these tips, you can find a kitchen runner rug that looks great and adds warmth and comfort to your home.
Choosing a Durable Rug
Material When picking a kitchen runner rug, you want to make sure it's durable enough to withstand heavy foot traffic. The most durable materials are nylon and polypropylene, as they are resistant to mildew, static electricity and dirt. They are also easy to clean and maintain. Wool rugs offer a softer feel, but require more maintenance in order to keep them looking good. Cotton is an economical option for those on a budget. You'll want to look for tightly woven fabric that won't easily snag or fray with regular use.
Caring for Your Kitchen Runner Rug
Once you have selected the perfect kitchen runner rug for your space, it is important to know how to properly care for it. Your kitchen runner rug will need to be cleaned and maintained regularly in order to keep its original shape and color. Start by vacuuming it twice a week to remove any dirt or debris that may have built up over time. Then spot-clean any spills or stains with a gentle detergent and warm water. Be sure not to scrub too hard as this can damage the fibers of the rug. You should also rotate your rug every few months so that it wears evenly. Finally, you may want to consider investing in a high-quality protector spray which will help protect your kitchen runner rug from fading due to sunlight exposure or staining from food and drink spills.
Conclusion
Kitchen runner rugs are a great way to add a touch of style and comfort to any kitchen. Whether you're looking for a traditional or modern look, there are plenty of options available. By considering size, shape, material, design and color you can easily find the perfect rug for your kitchen. With the right care, a quality runner rug can last for years, giving your kitchen an inviting atmosphere that guests will love.
Check out these stylish kitchen rug runners at Sofihas: