"Boost Your Kitchen Hygiene: The Benefits of Washable Kitchen Rugs"
Posted by ANDY ZAMAN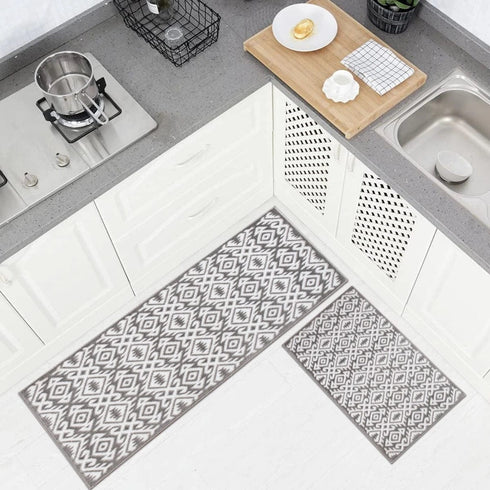 Kitchen hygiene is an essential part of keeping your home clean and safe. It's important to ensure that your cooking and eating areas are free of dirt and germs, and one way to do this is by investing in washable kitchen rugs. Not only do washable kitchen rugs add an aesthetic touch to your kitchen, but they also provide a host of other benefits. They can help to keep your kitchen floors clean, reduce slips and falls, and provide a soft, comfortable surface for your feet when you're standing for long periods of time. With their ease of cleaning and maintenance, washable kitchen rugs are an invaluable addition to any home.
Benefits of Washable Kitchen Rugs
Washable kitchen rugs are a great way to keep your kitchen floors clean and free of dirt, spills, and germs. Unlike regular carpets or mats, washable rugs can be easily cleaned and maintained with just a few simple steps. They're also much more stylish than other types of rugs and come in a variety of colors, designs, and textures. Best of all, they're easy to store – simply roll them up when you're done using them. In addition to keeping your kitchen floors clean and hygienic, washable kitchen rugs also provide cushioning for your feet during long periods of standing. This is especially beneficial for those who do a lot of cooking or cleaning in their kitchens. The softness of the rug provides comfort for your feet and helps to reduce fatigue. Finally, washable kitchen rugs offer an extra layer of protection against slips and falls caused by wet surfaces on your kitchen floor.
Types of Washable Kitchen Rugs
Washable kitchen rugs come in a variety of styles and materials. Natural fiber rugs are an excellent choice for those looking for a more traditional look, and these can be easily washed in the washing machine. Synthetic materials, such as polyester or nylon, are also popular options as they often have more vibrant colors and patterns. Many of these types of rugs are also designed to be water-resistant, making them ideal for kitchens with high foot traffic. Finally, rubber-backed mats provide excellent traction on hard surfaces, making them a great option for kitchens with tile or linoleum floors.
Tips for Cleaning and Maintaining Washable Kitchen Rugs
Washable kitchen rugs are a great way to keep your kitchen clean and safe, but it's important to maintain them properly. Always be sure to read the manufacturer's instructions before cleaning or laundering your washable kitchen rugs. Generally, they can be washed in a washing machine with a mild detergent. You should also use cold water and avoid using bleach or fabric softener as these may damage the fibers of the rug. After washing, hang your rug somewhere where it can air dry. If you have a particularly large rug, you might consider hanging it on an outdoor clothesline for faster drying time. Additionally, you should vacuum your washable kitchen rugs regularly to remove any dirt or debris that has accumulated on the surface. With proper cleaning and maintenance, your washable kitchen rugs will last for many years to come!
How to Choose the Right Washable Kitchen Rugs
When selecting washable kitchen rugs, there are a few things to consider. First, you'll want to look for rugs that are made from materials that are easy to clean and maintain. Cotton or polyester fabrics are popular choices, as they can be machine washed without loss of quality. You should also pay attention to the size of the rug; it should be big enough to cover the area of your kitchen floor where it will be placed. Finally, you'll want to select a rug with a slip-resistant backing; this will help prevent slips and falls in the kitchen when walking on wet surfaces.
Different Styles of Washable Kitchen Rugs
Washable kitchen rugs come in a variety of different styles and designs, from bright and colorful to minimalistic and contemporary. You can find a rug that matches your décor, whether you're looking for something to match your current style or something that can help you switch up your look. Most styles are machine-washable, which makes them easy to clean and maintain over time. They're also durable enough to withstand heavy foot traffic, making them ideal for busy kitchens with lots of family members coming and going. And because they're made of high-quality materials, they won't fade or shrink when washed.
Where to Buy Washable Kitchen Rugs
When shopping for washable kitchen rugs, you can find a wide selection online and in stores. Look for ones made of durable materials, such as cotton or microfiber, that are machine-washable and dry quickly. You should also consider size and design, choosing one that fits your kitchen's decor and is the right size for your needs. When purchasing from a store, be sure to inspect the rug closely to make sure there aren't any tears, snags, or other imperfections that could cause it to wear out sooner than expected. If you're buying online, look for reviews from previous customers to ensure that you're getting a quality product. 
Check out some of the best washable kitchen rugs can be found at Sofihas:
Conclusion
Washable kitchen rugs are an ideal way to boost your kitchen hygiene and make your kitchen look more stylish. They come in a variety of styles, materials, and designs, so you can easily find one that fits your needs and aesthetic. Plus, they're easy to clean and maintain, making them perfect for busy households. So next time you're shopping for kitchen rugs, be sure to consider washable options!