How Stair Treads scream comfort, style and safety!
Posted by YAVUZ AYBASTI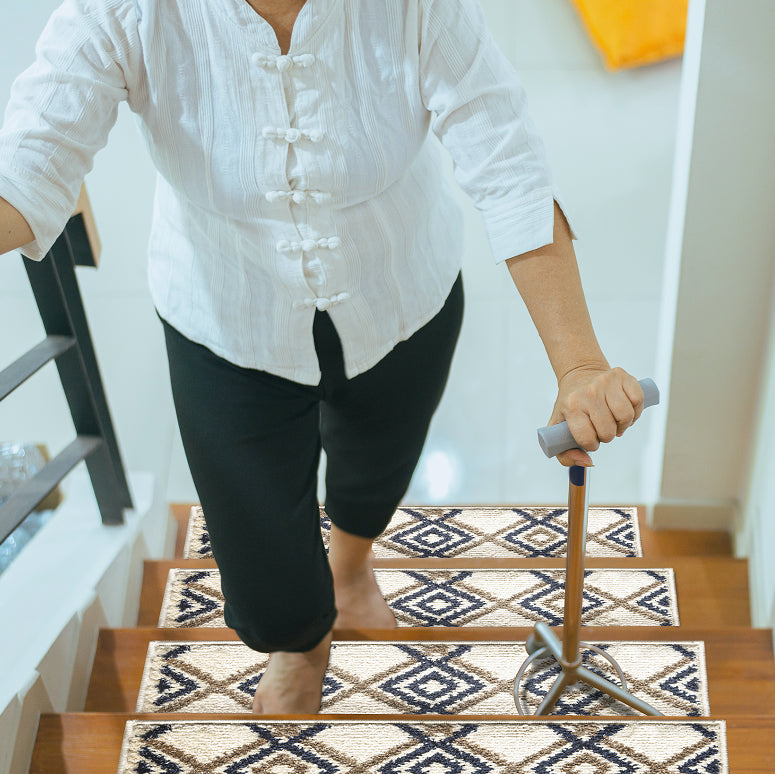 Proper stairwell management minimizes risk by balancing performance and safety, providing a long-term return. This is exactly what our slip-resistant stair treads accomplish. You can make your home more attractive and safer by using our pet-friendly stair treads. We provide a range of runners, mats, and rugs for stairs to ensure that people and pets do not lose their footing on a slippery staircase. Our wide variety of stair treads are available at affordable prices and they are easy-to-install. These stylish products are an excellent choice for homes with kids, pets and elderly residents.
We have used the most advanced manufacturing procedures for producing stair treads that can offer warmth, safety, noise reduction, style, wear-protection, and comfort. You can find a huge array of carpet stair treads with us and we provide options that can suit different homes and accommodate different budgets. We have some of the most premium stair treads that can ensure the safety and comfort of all residents or you can go with our economical range, which provides protection to everyone.
Our stair treads can be found in custom shapes, sizes, and styles, including rectangular, bullnose, oval and hexagon style stair treads. You can get in touch with us for your unique needs and we can accommodate you to help in decorating and protecting your stairs. We are dedicated to keeping your family, guests, and pets safe from dangerous slipping and falling accidents. You can choose from our numerous options to complement your stairway and add a touch of color without covering your floor completely.
Not only do we provide stair treads at affordable prices, but they are also easy to install, which makes them an excellent option for all DIY-ers. You do not need any adhesives, staples or tapes for installing our pet-friendly exclusive stair treads. All you have to do is just place them directly on the stairs for ensuring instant safety and preventing potential injuries. In addition, we also offer coordinating area rugs, landing mats and carpet runners for complementing the various stair treads we offer.
If you are looking to create a uniform décor all over your home, you can choose the required accessories from our range. Whether you are looking for contemporary stair treads for complementing your urban home or you want something traditional for your luxurious living space, we have plenty of choices for you. We also offer outdoor carpet treads that can be used for your home's threshold to add safety and elicit beauty. We use all-weather materials for manufacturing these carpet stair treads to ensure they can survive the elements. Our outdoor stair treads are extremely easy to clean and maintain, have the same ease-of-installation as indoor ones and are suitable for residential and commercial spaces.