"Uncover the Personality Behind Your Stylish Bath Rug: How to Showcase "You" Through Textiles"
Posted by ANDY ZAMAN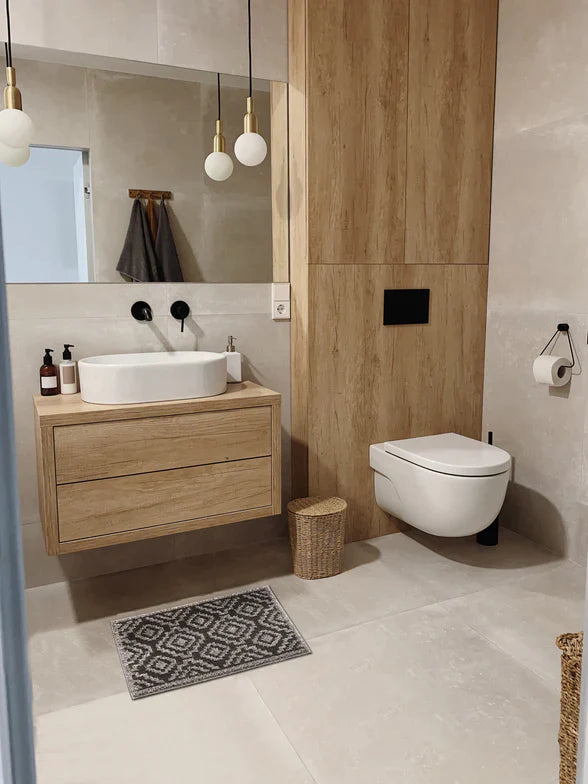 Your bath rug can be so much more than a functional item. A stylish bath rug can be a reflection of your personality, a piece of art that ties your bathroom together. With the right design, texture, and color, your bathroom rug can become a creative expression that sets the tone for the entire space. From classic and elegant to vibrant and fun, there are plenty of ways to make your bath rug stand out and showcase your style. With just a few tips and tricks, you can turn your bathroom rug into a one-of-a-kind masterpiece that speaks to your individual tastes. Let's take a look at how to uncover the personality behind your bath rug and make it a standout feature in your bathroom.
What Makes Your Stylish Bath Rug Stand Out?
The first step towards discovering your stylish bath rug's personality is to decide what it should look like. Consider the colors, textures, and patterns that best reflect your style and make you feel comfortable in the space. If you want to keep it simple and classic, choose a muted tone with an understated pattern. If you're looking for something bolder, try a bright color or an interesting texture. The possibilities are endless when it comes to picking out a bath rug that reflects your unique style. Once you've chosen the perfect rug for your needs, add some finishing touches to make it stand out even more. You can incorporate interesting materials into the design like wool, jute, cotton, or bamboo. Or add accents like tassels or fringe for a bit of texture and character. Finally, don't forget about accent pieces such as wall art or plants that will help enhance the personality of your bath rug and tie all of the elements together in one cohesive look.
Consider the Design, Texture, and Color of Your Stylish Bath Rug
The design of your rug can take on a variety of forms. You can go for a classic look with bold lines, geometric shapes, or simple patterns. Or you can opt for something more intricate and abstract with vibrant colors and unexpected details. Additionally, think about the texture of your rug. A soft, fluffy rug can add a touch of luxury to any bathroom. If you're going for something more modern, consider a sleek and shiny option that contrasts with the other elements in the room. And finally, don't forget to choose the right color. It should be an inviting hue that complements the other items in your bathroom while also reflecting your unique personality.
Tips for Designing a Stylish Bath Rug
When it comes to designing a stylish bath rug, there are a few key elements you should keep in mind. 
First and foremost, consider the size of your bathroom rug. If you have a large bathroom, you'll want to choose a larger rug that will cover more space and make an impact. On the other hand, if your bathroom is on the smaller side, opt for a smaller rug so it won't overwhelm the space. 
Secondly, think about texture. Bathroom rugs come in all sorts of materials from plush cotton to soft microfiber and durable nylon. Each material offers its own unique look and feel that can complement your bathroom style in different ways. Lastly, don't forget about color! Bright hues can add a touch of vibrancy to your bathroom while subtle shades can create a sense of calmness or sophistication. Consider what color palette best reflects your personality and go from there!
Using Patterns and Colors to Express Your Personality
When it comes converting a bath rug to a stylish bath rug, color and pattern are key. Consider the look you want to create in the bathroom and choose a color palette that fits the aesthetic. 
Do you want a classic, timeless look? Opt for a black and white striped design or a classic navy blue with gold accents. 
For something more vibrant and fun, try patterns like geometric shapes, florals, or abstract designs. 
Whatever your preference, don't be afraid to experiment with different colors and patterns until you find one that speaks to your individual style.
Check out these new and stylish bath rugs at Sofihas:
Unique Ideas for Your Stylish Bath Rug
When it comes to selecting the perfect bath rug, there are plenty of options to choose from. You can go for a classic look with a solid-colored or striped rug, or you can make a bold statement with an eye-catching pattern. Textures are also important; plush and soft for a luxurious feel, or smooth and sleek for a more modern vibe. If you're feeling adventurous, why not try something unique like a shag rug? This type of rug instantly adds texture and personality to the space. Another idea is to use two rugs instead of one; this creates visual interest in the room. Finally, consider adding some color to your bathroom with bright hues or muted pastels. No matter what look you choose, be sure to tie it together with coordinating towels and other accessories for a complete look.
The Benefits of Having a Stylish Bath Rug
A stylish bath rug can add a touch of sophistication to your bathroom. Whether you're looking for something bold and eye-catching or subtle and understated, there are plenty of options out there to fit your style. Not only will it look great, but it will also keep your feet warm and dry after a shower or bath. Plus, having an attractive rug in the bathroom can make it a more inviting space for family and friends. A stylish bath rug is an easy way to add beauty and personality to your bathroom. When selecting a bath rug, think about the design elements you want to include in the space. Do you want something bright and colorful? Or do you prefer something neutral and calming? Your choice of material is also important; consider how durable it needs to be depending on how often it will be used as well as its texture. Once you have all these factors figured out, take time to explore different designs until you find one that fits your personal style perfectly.
How to Care for Your Bath Rug
The first step in making your bath rug a statement piece is to make sure it's taken care of. Your rug should be vacuumed regularly and washed with a mild detergent. If your rug has a textured design, use an upholstery brush to avoid flattening the fibers. Additionally, use small scissors to trim away any loose threads or lint that may have accumulated over time. These simple steps will help you preserve the look and feel of your bath rug for years to come.
Tips for Cleaning and Maintaining Your Rug
To ensure your bath rug looks its best, it's important to take the time to clean and maintain it. Vacuum your rug regularly to remove dirt and dust. If you have a machine-washable rug, run it through the wash with a mild detergent and cold water. For wool rugs, use a mild soap solution to spot-clean any stains. Once it's been cleaned, let your rug air dry completely before using it again. In between washes, spray a light mist of water over the surface of your rug and leave it in direct sunlight for a few hours. This will help keep the fibers from becoming matted and allow them to retain their original shape. With these simple cleaning tips, you can keep your bath rug looking as good as new for years to come!
Conclusion
Showing off your personality through your bath rug is a great way to make your bathroom unique and stylish. With the right design, texture, and color, you can make your bathroom the perfect reflection of your style. From incorporating patterns and colors to choosing unique materials, there are plenty of ways to make sure your bath rug stands out and expresses your personality. Plus, with the right care and maintenance, you can keep your rug looking fresh and stylish for years to come!