Stair Treads for Dogs
Posted by YAVUZ AYBASTI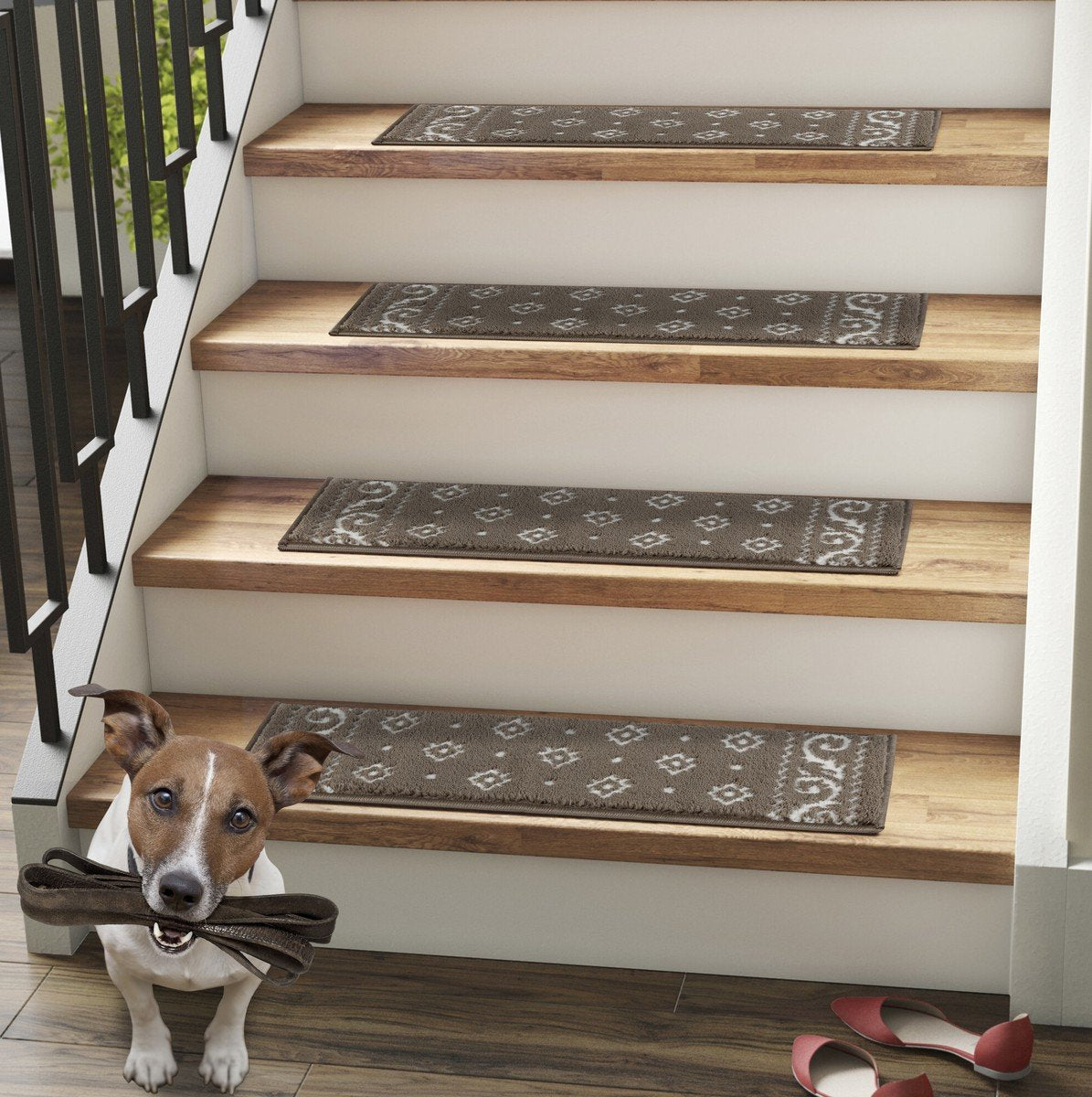 We all love dogs, they are so dear to us. We cherish their love in a manner that they become part of our life. If anything happens to them, it makes us upset. But at times, grief is the cost of love we have to pay. We see our dearly dog slipping or falling from stairs. Why does it happen? It is because stair floors are made of different kind of materials. Some people have fancy floors so that the house looks aesthetic. Some stairs are made of inexpensive materials; some need repairs so they become slippery with wear and tear. Dogs and pets try to run faster up or down the stairs and hence slip. There are incidents where dogs succumbed to injuries falling from stairs and died. Oh dear………… it's dreadful!
YOU CAN SAVE YOUR DOGS LIFE BY USING CARPET STAIR TREADS IN YOUR STAIRCASE
Sofia Rugs™ carpet stair treads are like soft pads for delicate paws of your puppies. We offer soft carpet stair treads with polypropylene surface and a soft PVC backing that makes it's up and down movement effortless, comfortable and risk free. Firm grip of the carpet treads also saves your dog from slipping and soft underlying buffer provides a soft cushion in case it falls down which will not let it hurt hard.
Let me relate here a real life experience with Jenny. She had a lovely dog and its life was only saved because carpet stair treads were neatly placed inside her house wherever the stairs were. She came to us specially to thank us because she said it was just due to our stair treads that the life of her dear dog was saved.
Stair Treads Carpet Non-Slip
You don't have to spend too much extra to buy this comfort and safety for your lovely dog.
No extraordinary renovations or home modifications are required
No need for any kind of dismantling or displacements or furniture movement for repair works
Adhesive carpet tape is part of the stair mats that secures them firmly on the stair surface and provides them extra grip added to the stair treads non slip bottom
Hardwood, Wooden stairs durability is also enhanced because the carpet treads foil the stairs as a protective layer guarding them against scratches, wear & tear and greasing by overuse.
Indoor non-slip stair treads and runners function reliably for all kind of users, such as pets, cat or dog, kids, aged, visitors, friends & family
Our stair treads, stair runners or stair rugs made up of soft and cozy materials that are suitable for both humans & pets
Our outdoor & indoor stair treads are tear friendly that demonstrate resilience and flexibility.
Variable sizes of our stair mats or carpet treads well fit in a wide range of stair types
Our Short-term Stair treads can be easily detached without damaging the stair or leaving any residue behind for dogs & humans
They are suitable likewise as wood stair treads, tile non-slipping stair treads or embellished stair treads
We offer a color variety you will find nowhere else, suiting your home décor, building style and furnishings color scheme.